Finding a mobile game is not as easy as before. Hundreds of advertisements, wrong projects that people apply to satisfy their egos, hard-to-play keypads on the mobile screen, slow-to-play games, prompting for money in the game we play for 10 minutes definitely hit the motivation of the players. Back to 2013.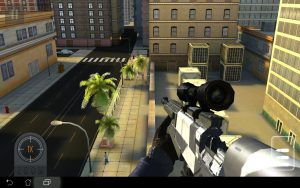 If we start the task, we can see the following parts on the task map; Primary, special operations, daily missions, multiple killing, sought-after include game layers. I'm going into the multi-killing section for you right now. The game will try to play with you. The parts of the game are provided with content as a download.
Imagine an American movie and you will see what a Sniper is doing in the game. However, if you are very careful you will succeed in the game. The tasks you are given in the game are sometimes impatient, and sometimes it is up to you when you understand that a person is a criminal. Just don't shoot innocent people. I want to talk about a concept that real players understand in Sniper. The graphics in the game come the latest. The reason is that Sniper doesn't have much graphical features and its playability is great.
The screen shows the city's skyscrapers and apartment buildings, where we will perform operations in practical terms. The thriller music of the game is great. It's not like you're in the game, it's adapting it like it's alive. When we press the Packages section; The starter pack includes the counterterrorism pack, the Pro sniper pack and the piggy bank. The packages at the bottom have diamonds, tokens, battle chips and premium. In the Achievements section, we can see pictures of the awards the game has given us.
If we move to the other layer, the options section includes sections such as sound, blood, music, y-axis invert graphs, speed meter, calculation. When you enter the game section, our weapons, again, packages, equipment, upgrades, ammunition and missions are available. In the upgrades section you can buy additional features such as weapons, long barrel mouth, ammunition, body, pistol grip, binoculars, muffler mouth or use it according to the game gift. Those who do not want to use the classic hunting guns can access the alluring weapons in the game.