Even though anime is a familiar term today, some prolific ones bring enormous success to Japanese animation. Naruto is undoubtedly one of them. Created by Masashi Kishimoto, the series released as a comic book first. After a certain amount of success, anime adaptation came, and finally, we had a chance to see the thrill. Lots of characters, emotional story, and never action is definitely waiting for you.
Take a Part in Naruto's Journey
Our main character is Uzumaki Naruto, and he lives in a Ninja village called Konohagakure. The only thing that on this angry, mischief, and ambitious boy's mind is to become the head of the village and carve his name to the history. Along the way, he will see many challenges and make many friends as well as enemies. One thing for sure is Naruto's journey will take you places that you have never discovered within yourself. Of course, the conflicts of the ninja world are also waiting for you. If you are beginning to discover the world of anime, we highly recommended this series.
Road to Become a Ninja Filled with Friends and Enemies
The universe of Naruto consists of different ninja villages aside from Konoha. They waged war against one another, and years of conflict resulted in many tragedies. Due to that, every village trains ninjas as in the educational process of schools as we know. To be able to become a ninja, there is a specific type of mission and training. Naruto is just in the beginning, and within his educational process, Naruto was assigned with a squad of three members and a teacher as a supervisor.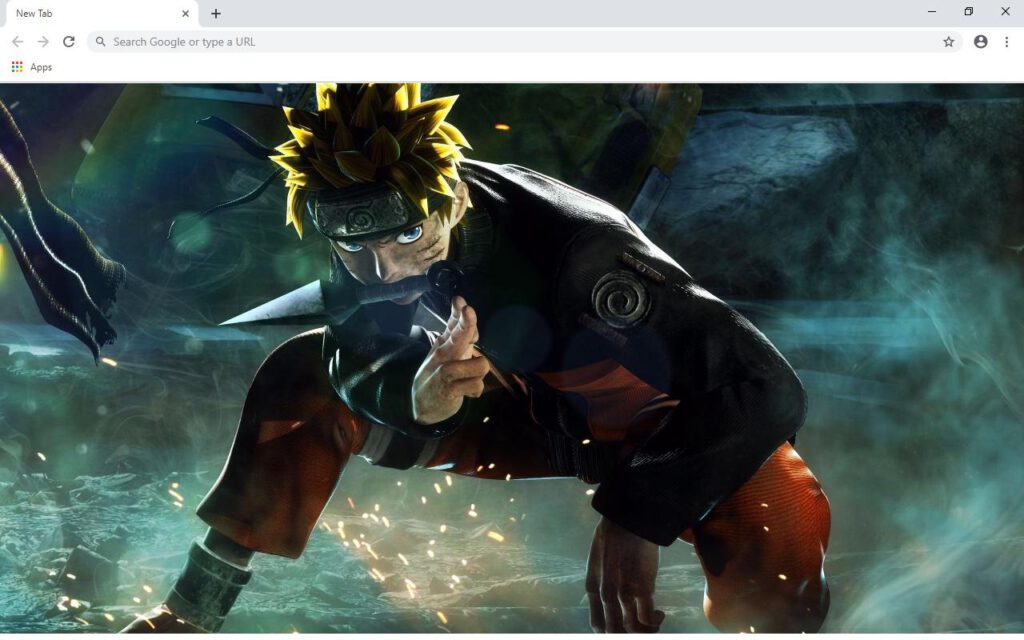 Customize Your Tabs with Naruto Characters!
Our exclusive Naruto extension will never cease to amaze its fans! Many features and high-quality wallpapers are waiting for you! You may ask yourself that if you need to extend or not. However, before deciding anything first, look what we have prepared for you:
A customized ninja-themed date and clock
If you want to take a short break visit our game website to play browser games. You can reach it by clicking the ''Popular Pages'' link.
As you will notice, there are some gummy links in our extension. These links will bring your frequently visited websites and social media with just one click.
When you open a new tab, there will be a high-quality Naruto wallpaper that will welcome you. You can choose any specific one for your new tabs. However, we do not have a shuffle option at the moment. Surely we will bring you that in the future so that there will be different wallpaper for every new tab.
Our Naruto extension and addon are not obligatory. We created it so that fans enjoy their browser moments. That means you may uninstall it anytime you want. But before that, if you have any suggestions about our extension and addon, feel free to reach us!