Have you ever heard of Counter-Strike? Sure, you have because this game franchise has a span of 21 years. Also, one of the most successful FPS gaming franchises of all time. In this article, we will go deeper into this game and the features of our Counter-Strike extension.
High Level of FPS Experience
The game was developed by Valve Cooperation and released in 1990 for the first time. After the first release, Counter-Strike was followed by Condition Zero, Source, and Global Offensive. Especially, the Global Offensive –also known as CS: GO- is the most advanced version of the game. Since the game mechanic and graphics are improved, the popularity as well. Due to that, we have international tournaments where the high level of competition reached millions of fans. Every year, there are major tournaments with the highest winning prices that Counter-Strike world has ever seen.
What is there for you in Counter-Strike?
Counter-Strike is a multiplayer first-person shooter game. There are two opposing teams for every match: Terrorists and Counter-Terrorists. The two sides have to compete in different types of fields. For instance, secure a location to plant or defuse a bomb and rescue or guarding hostages. At the end of each round, if the players succeed in their tasks, they will get rewarded with money. The players use the money to buy weapons, bombs, life vest, and bomb disposal kits for the next round. With CS: GO installment, we have lots of gaming modes: Deathmatch, Competitive, Casual, Arms Race, Demolition, training maps. Competitive mode is the most popular one. If you want to play this mode, you have to reach a certain level and set of skills because competitive mode requires teamwork, patience, and precision.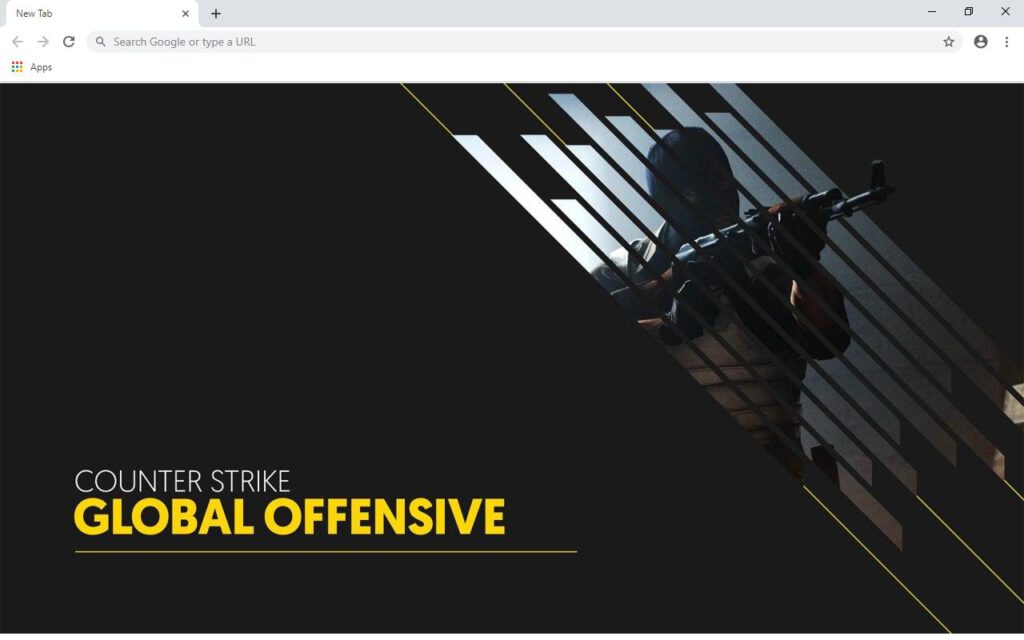 An Exclusive Counter-Strike Themed Extension for Gamers 
Since we live in an age where the digital world covers most of our lives, having a customized browser became essential. Moreover, we would like to see our favorite games as a theme in our browsers. Knowing that we have created Counter-Strike themed extension so that you may enjoy it. Take a look at our features, and decide!
Brand new Counter-Strike wallpapers for your new tabs.
Currently, we have only a permanent wallpaper option, but you may change it anytime you want. The shuffle option will be there with you soon.
Sticky links for easy access to social media, popular and frequently used websites. Also, we have a browser gaming website that you may reach through ''Popular Pages''
Of course, we did not forget the Google search bar and date-clock feature.
If you are not pleased with our extension, you can easily uninstall it by selecting the ''Remove from Chrome'' option.