Word music stage has seen countless successful bands, which still has an enormous influence on music lovers. However, none of them has achieved more success than this South Korean boy band called Bangtan Boys, famously known as BTS. In this article, we will talk about the band and our new BTS extension.
The Unquestionable and Unmeasurable Success of BTS 
From their first debut in 2013 to this day, BTS gained huge success and popularity all across the world. Specifically, in the US top music list, the band earned multiple first spots. That is quite a feat to be achieved by a non-English speaking band. After they conquer South Korea, their fame and popularity increase to a point, where their tours are sold in the first hour. From the outside point, that seems unimaginable but if we observe the process, it is quite understandable why they are so successful. That is also the reason why they were chosen as TIME's Entertainer of the Year 2020.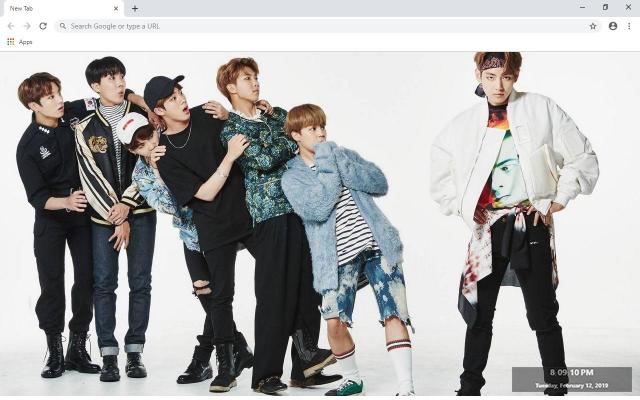 From K-Pop to Beyond 
BTS consist of seven members: RM, V, Jimin, Suga, J-Hope, Kim Seok-Jin, and Jungkook. Each of these talented young men brought their attributes and skills to create a unique sound. Add to that, their performances and talent in dancing also contributed to their style in general. In the beginning, the sound and appearance of BTS were close to the punk and pop genres. However, in time, their lyrics, performances, and production quality matured. Fundamentally, rap sounds influenced their music but through the course of their albums electronic, hip-hop, and pop sounds are also at present. BTS constantly improve and set their eyes on every unimaginable step of the success. Even though they are named as the ''biggest band of the world'' right now, that does not stop their growth.
Comfortable Browsing Environment with BTS Extension for Chrome 
By creating this BTS wallpaper collection and extension, we would like to please the fans with our exclusive features. While you are browsing, you should not get bored of the look of your personal browser. Especially if you are working or researching, you need to be in a comfortable environment. Generally, that is what we are offering for you if you install our extension. Before you decide, please take a look at our features!
Hand-picked BTS wallpaper collection: photoshoots of the band members, concert photos, and more.
Each wallpaper you picked for your tab is permanent until you change with another.
The shuffle option is not there yet, but we will add it soon!
If you want to play browser games, you may find our gaming website through ''Popular Pages''.
We also have quick links so that you can go to your favorite website or social media with just one click.
Of course, date and clock feature here as well.
Our extension is free, so you do not have to pay for anything. You may uninstall it according to your wish as well. However, we would like to hear your opinion about our features too! So, feel free to send your feedback!