Dumb Ways To Die is a viral safety study of Australia's Melbourne subway in 2012. It is a short film prepared for the young people around the subway to be more careful and has become a game over time. In fact, the company's aim is to monitor the most dangerous behaviors of young people for the purpose of private security and aim to draw attention to the player by rewarding the players with points by correcting and correcting the dangerous behaviors done in the game.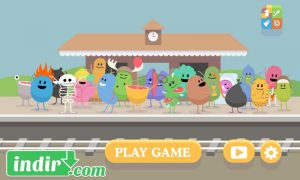 As a matter of fact, the game is instructive for the user. The songs played in the game were made by a small group known as Ten Green Kitty in Melbourne. The advertising campaign has achieved its original goal, which has reached up to 46% of its target audience in a month.
This means that achieving 46% of the target audience in a short period of time is really a great achievement for the purpose. With up to 50 million downloads, the game also has 4.3 points rated by users. At the beginning of the game a short animation welcomes game lovers and at the beginning of the game players are given 3 rights. In the game that has different tasks, the players get shorter as they pass these missions and provide the player to gain experience.
Tasks include connecting electrical cables, vomit cleaning, walking away from the railroads, leaving the train in front of the train, surviving, taking bread from the toaster without forking, keeping the fish in the water away, feeding the cobra snake by sinking the sandwich and poking the bear and poking the bear. tasks.
Dumb Ways to Die is a fun, addictive and quite different skill game from other games. Our goal in the game is to save our little characters from death by fulfilling the requirements of us. But it is not as easy to do as it seems, although it seems easy at first,
time is shortening and it is getting quite difficult.
After that, it is up to our speed and skill to save our lovely characters. Sometimes we try to protect our characters from dangerous piranhas and sometimes from the dangers that will happen as a result of their own stupidity.