We spend most of our time on the internet, and let's face it: a default appearance of a browser is not something pretty. In fact, it is duller and even boring. If you are playing Valheim and change this atmosphere that invades your browser, you can try our free Valheim extension. Before that, check our article to have more information about the game.
Survive in the Realm of Valheim 
Valheim is a sandbox survival game where a player controls a Viking. However, your character has died in a battle and carried to a spiritual realm of gods many different beings. Within this realm called Valheim, you have to survive by gathering resources to create weapons, armor, and other tools. You are controlling a third-person character in the game, and combat has based on action games. The game also supported multiplayer mode from 3 to 10 players. You may also check for other modes which contain a different type of features as well. Basically, you need to explore the realm of Valheim and survive against the enemies of Odin, who is the father figure of Norse mythology.
Astonishing Environment Based on Norse Mythology 
Even though the game has based on the folklore of Norse myths, developers create a different narrative. The concept, environment, and other characters are the reflection of the Scandinavian myths, but there is no actual place called Valheim in existing stories. However, if you are interested in the mythology of the Norse, you will find familiar aspects in the game that will elevate your experience. For example, Valkyrie will carry your dead body to the realm of Valheim (Valhalla in the actual myth) as in Norse mythology. Valheim has a vast constructed world in which you discover many challenges and fun as you progress. In a way, you will create your own story with this fantastic environment, which is full of wonders.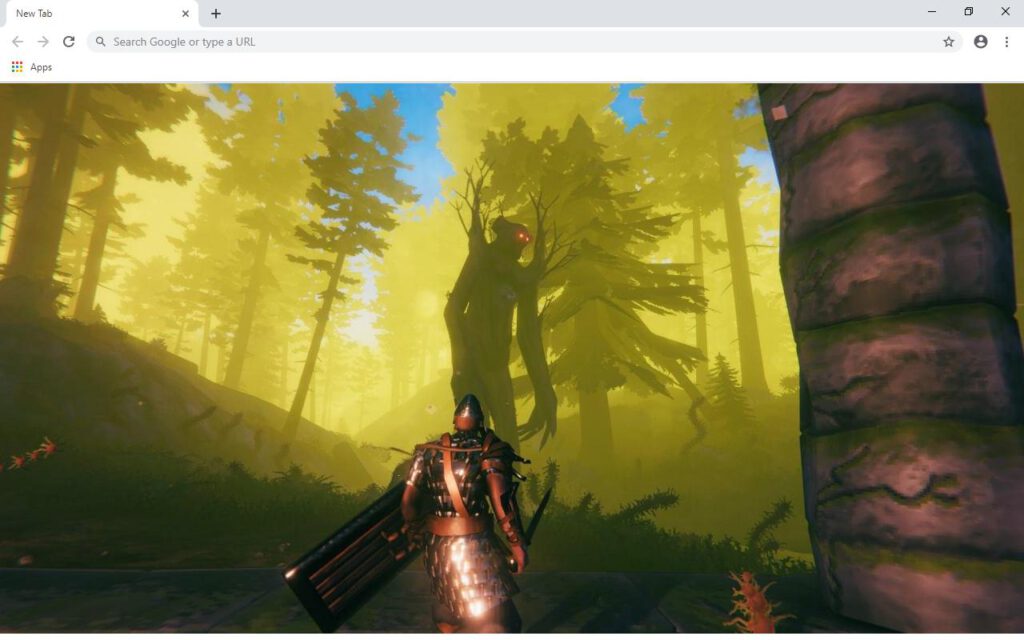 Valheim Extension with Breathtaking Visuals 
The most appealing aspect of the Valheim is the environment. Considering the game belongs to the survival sandbox genre, environmental quality is essential to have that atmosphere. Only then, you get an urge to play more. While creating this extension, we had to add high-quality visuals to entertain our users. As soon as you begin to use our extension, you will immediately like the interface we have constructed for you!
Our high-resolution wallpapers will work as a background image for your new tabs.
We do not have the shuffle option to change your wallpapers automatically yet. You have to adjust the wallpapers manually.
An exquisite date and clock feature, which reflects the atmosphere of Valheim.
Sticky links -consisted of social media pins and popular websites section- will save your time reach any website you may think of.
You will not have any issues if you want to uninstall our extension. Just click the ''Remove from Chrome'' option.