FPS (first-person shooter) genre is quite popular among gamers. Almost every gamer has one favorite FPS game they have played throughout their lives. Presumably, Call of Duty –also known as COD- is among those games. We have created a Call of Duty extension for those who are fond of this game. It is free and full of useful features to customize your browser.
The Powerhouse of FPS Genre 
From 2003 to this day, the Call of Duty series drew the attention of millions of gamers. For those who want to experience the atmosphere of actual combat, probably tried at least one Call of Duty game. In fact, there were even battle sequences in the game such as the Battle of Normandy. Throughout the series, you have a chance to play in different types of battlegrounds. For example, in the first trilogy of the series, you play as American, British, and Soviet soldiers in World War II through the campaigns. Moreover, for the later installment of the series, you have a chance to experience modern combat. Undercover missions, rescue operations, or assassinations will give you the thrill you are looking for!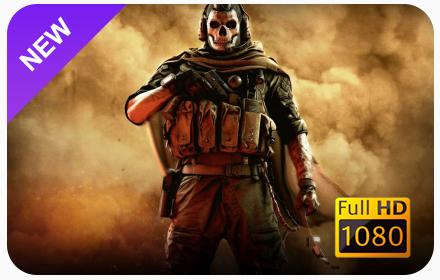 Alternative Storylines Offers Extraordinary Experience 
There are two other main sub-series within the Call of Duty franchise: Modern Warfare and Black Ops. Modern Warfare was the first game that includes a storyline that took place in the modern era. Successfully, the mechanics and developments of the game recognized by many influential gaming comminutes. The leveling system and realism were the main attributes of the Modern Warfare installment, which also introduced prolific characters such as Captain John Price and John ''Soap'' MacTavish. The other successful ''Black Ops'' series, revolved around flashbacks of the former CIA operative Alex Mason. Through these flashbacks, the game takes us to various types of missions set in the Cold War era.
A Competitive Combat Experience: Call of Duty Multiplayer Mode
Aside from single-player mode, which filled different types of storylines, Call of Duty also offers a multiplayer mode. Thanks to the multiplayer mode, you are unable to use the weapons and equipment which you have seen in the campaigns to battle with your opponents. Of course, there are a lot of maps, so that you may choose where you fight!
A New Web-Surfing Experience with Call of Duty Atmosphere
The call of Duty series amazed us for so many years. Influenced by that, we have created this extension so that fans of the game enjoy this atmosphere while surfing on the internet. Here are our features:
A considerable amount of wallpapers that a collection of high-quality images for your new tabs.
Gummy links direct you to social media, popular and frequently-visited websites instantly.
Google search bar for direct searches.
The date and Clock feature is included as well.
We would like you to know that our extension is free and easy to download. Also, if you are not happy with it, let us know before you uninstall it!