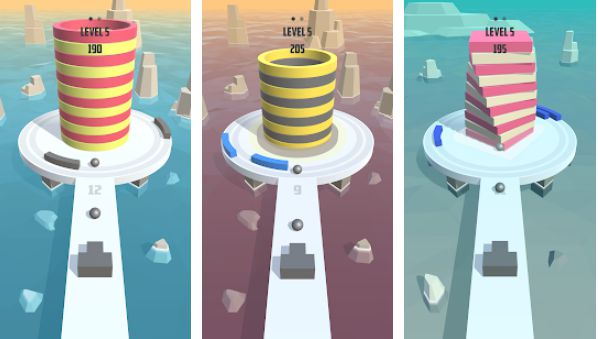 FireBalls 3D is an incredibly addictive game that gives you the chance to prove how far your capacity for skill, purpose, precision, focus and agility can go in super fun and challenging laps. If you're looking for a challenge that will stay connected to the screen for hours, sharpen your goal and push yourself into this 3D adventure.
The gameplay in this game is very simple, but completing the levels will be a difficult battle for you. To successfully complete each stage, you will have to destroy the tower in front of you. This tower consists of a ton of rings that you must break by throwing balls. Click the screen to throw a bullet or hold your finger to send a big endless explosion. Each time the ball hits a ring, it disappears. Note the number of blocks you still need to get rid of to get the crate at the top of the tower.
The challenge in FireBalls 3D is that you'll find a series of walls spinning around between your tower and your cannon. I mean, it's really hard for bullets to affect the tower. As the levels progress, you will spin at different speeds and find more protection that will make your mission even more difficult.
Each stage is built by a series of towers, so make sure you get rid of all of them, and you won't miss a single one or you'll have to start over again. Enjoy FireBalls 3D and test yourself in endless rounds where you set your own limits.