In this article, we would like to present you with one of the most popular mobile games ''Brawl Stars''. Moreover, we also created a Brawl Stars extension which will help you to customize your browser. Thus, you will enjoy your web-surfing time more than ever! 
Lots of Action with Brawlers 
Among the many mobile games, only a handful of them made their remarks. It is safe to say that Brawl Stars is clearly one of them. The game has been rewarded as ''EE Mobile Game of the Year'' and reached almost ten million dollars in in-game selling. The comic-like atmosphere and character designs are the first things that draw your attention. Also, the gameplay is full of action so, you will enjoy every moment of your time. Several types of modes are waiting for you to try your shooting talents. Created by Supercell, the game is available for iOS and Android devices. If you are a fan of fast-paced mobile games, you should definitely try it. 
Brawl Stars is More Than You Think
Initially, Brawl Stars is a third-person hero shooter multiplayer online game. The characters of the game known as ''Brawlers''. Each brawler has a main and additional three abilities to utilize. Briefly, we can categorize the brawlers as close, mid, and long-range shooters. According to the attributes of your brawler, you can choose manual shooting as well. That will also help you to get used to the game. There default modes and special modes as you get familiar with the game. Add to that, the reward system ''Brawl Pass'' allows you to acquire coins, gems, skins, pins, and Brawlers. The game offers you more than you can imagine. If you have enough skill and success, you may even join the online tournaments of the game that includes a 1.000.000$ prize pool.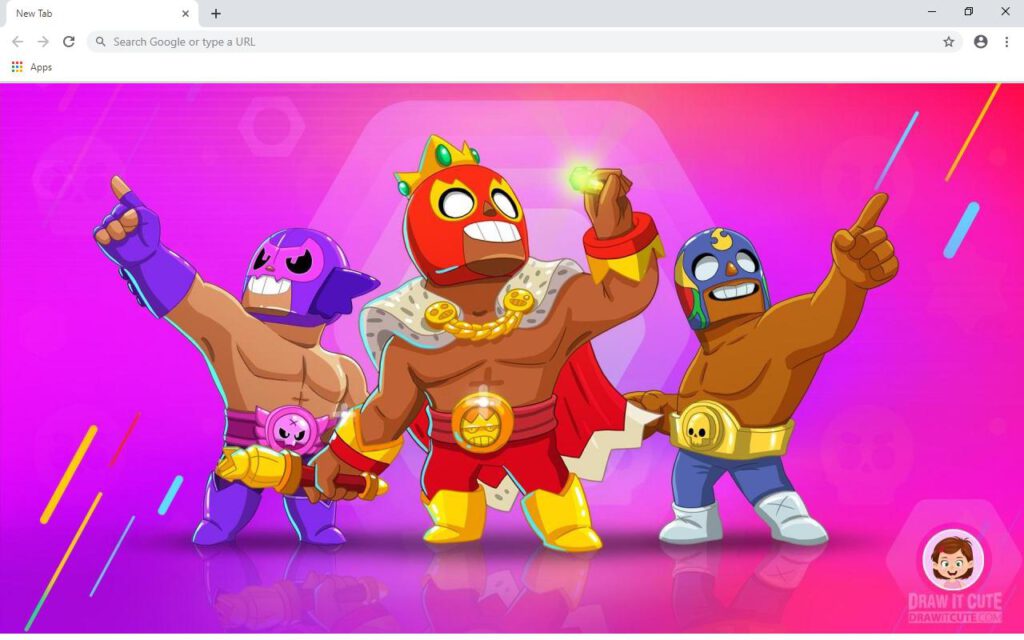 Easy-to-use Brawl Stars Themed Extension 
Brawl Stars has a colorful atmosphere, and that is why the gamers have embraced it. Being aware of that, we have created this extension to suit the theme of the game. Our extension is free to use and easy to download. Also, you may uninstall it easily by selecting the ''Remove from Chrome'' option. Of course, you may send your ideas and suggestion about your experience with our extension. Before that, let's go through our features. 
A huge collection of wallpapers include the Brawlers of the game. 

You may set any image from our collection as a permanent wallpaper for each tab you open. 

We are considering adding the ''shuffle option'' for the wallpapers as soon as possible. 

Sticky links will be there for you to reach social media and popular websites with ease. 

Date and clock feature with a colorful design.