For the past five years, battle, royal games are gained immense popularity among the new generation of gamers. On the surface, it seems similar to other battle royale games, but as you begin to play you will see the details and mechanics of Apex Legends.
 What Makes Apex Legends Different?
Undoubtedly, battle royale games took the gaming world by storm in recent years. Apex Legends one of those games with distinctive qualities in terms of gaming mechanics and maps. As you begin to play, you will see the details which will amaze you. One of the most interesting details we have mentioned is the characters you will choose before you join the battle. In the game, you have the chance to choose a character who has passive, tactical, and ultimate abilities. You have to decide where and when to use any particular ability to defeat your opponents. Moreover, you can bring your gaming style and tendencies to battle. Thus, the connection between your personality and the game becomes more solid.
An Immersive Backstory to Dive in
Like many games of the same genre, Apex Legends also has the lore of its own. The major part of the backstory revolves around the events after the power struggle between IMC and military forces. However, the struggle of the individuals is not ended yet because they have to survive in this era. This ambition of survival led to a blood sport known as Apex Games. Within the futuristic island known as Kings Canyon, every champion and competitor battles for fame, money, or vengeance. The game has no story or single-play mode yet. However, by playing the game you may discover cinematics and different aspects of the story. In a way, you can create your own lore, which brings a more immersive experience.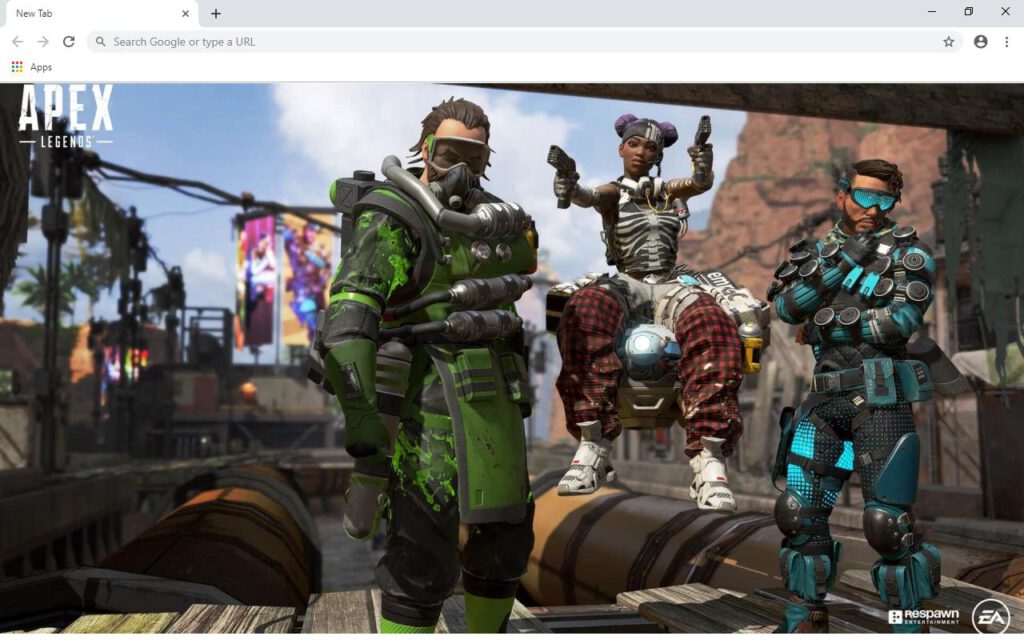 A Rare Apex Legends Extension and Wallpaper Collection
Apex Legends brings uniqueness to the battle royale genre. We also have the same aim, and that is why we have created this extension. Aside from our features, we have a collection of wallpapers that consists of character illustrations, futuristic maps, and in-game scenes you have never seen before. Our extension is optional and free to download.
Permanent wallpaper of your choosing for each tab you open.

A search bar for your researches on

Exclusive date and the clock feature.

Gummy links, including social media pins, popular and frequently visited websites for easy access.

If you are also fond of browser games, check our gaming website in the ''Popular Pages'' section.

You may also uninstall our extension by choosing the ''Remove from Chrome'' option. But before you do that, you may

inform us about the reason you are uninstalling it. That gives us a chance to improve our features and interface.